Releases: Ephel Duath - On Death and Cosmos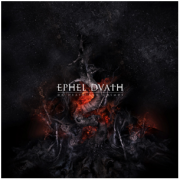 Artist:
Ephel Duath
Title:
On Death and Cosmos
Catalog number:
ARmcd016
Format:
digipack EP
Genre:
Metal/Rock/Progressive
Origin:
USA
Release date:
2012
Availability:
Order here
Ephel Duath's new EP On Death and Cosmos marks the band's return to full activity after a break taken in 2010 due to economic struggle and consequential line-up turmoil. That break proved to be a very positive move considering Ephel Duath's renewed mindset and the effortless flow of creative energy the band is experiencing these days. Defiantly escaping categorizations of sort, Ephel Duath in 2012 is guitarist Davide Tiso proudly joined by Karyn Crisis on vocals, Marco Minnemann on drums and Steve DiGiorgio on bass.
Born from a tragic personal loss, On Death and Cosmos is a mini concept of three songs dealing with spirit attachment, abandonment and self-transformation. The EP's lyrics poetically envision the crude expression of mourning and stand as some of the band's most poetic to date. Musically, On Death and Cosmos underlines Davide Tiso's will of leading Ephel Duath to even more adventurous sonic landscapes: longer compositions characterized by a constant search for intensity, all developing the band's primary goal: to offer comfort through a roller coaster of tense and unsettling music.
Track list: 1. Black Prism; 2. Raqia ; 3. Stardust Rain.
Running time: 20 minutes
We will start shipping orders on 18th of June.