Releases: Azarath - In Extremis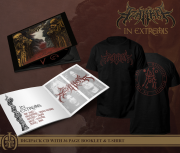 Artist:
Azarath
Title:
In Extremis
Catalog number:
set147
Format:
CD + T-shirt (model II) bundle
Genre:
Death Metal
Origin:
Poland
Release date:
2017
Exclusive digipack CD with 36 pages booklet + t-shirt.

AZARATH return with brand new studio album!
Exclusive t-shirt with an exclusive design. Large, full color print on a Valueweight Fruit of the Loom t-shirt.
See measurements of the t-shirt here.

Tracklist:
1. The Triumph of Ascending Majesty
2. Let My Blood Become His Flesh
3. Annihilation
4. The Slain God
5. At The Gates of Understanding
6. Parasu Blade
7. Sign of Apophis
8. Into The Nameless Night
9. Venomous Tears (Mourn of the Unholy Mother...)
10. Death