Releases: Forgotten Tomb - We Owe You Nothing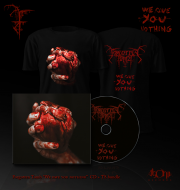 Artist:
Forgotten Tomb
Title:
We Owe You Nothing
Catalog number:
set172
Format:
digipack CD + t-shirt bundle
Genre:
Black/Doom Metal
Origin:
Italy
Release date:
2017
Digipack CD + fruit of the Loom valueweight T-shirt with large prints.

See measurements of the t-shirt here.
"We Owe You Nothing" marks the highest point in the band's constant evolution and once more makes it hard to narrow down its sound to some pre-existing labels. Effortlessly blending the eerie, dissonant black metal sound the band is well-known for with muscular sludge/doom riffs and a subtle, nihilistic punk attitude, "We Owe You Nothing" defines the band's personality more than ever, reaffirming its unique sound.
The new album includes 6 songs for approx. 40 minutes of music. Recording-sessions started in December 2016, with drums being tracked at Big Pine Creek studio in Italy, but were abruptly interrupted when singer/guitarist Ferdinando "HM" M. was involved in a life-threatening car accident that left him unable to play for months. The recording was resumed and completed in May 2017 at SPVN Studio in Italy, while mix and mastering were done in June 2017 at Planet-Z studio (Hadley, Massachussets, USA) by Chris "Zeuss" Harris (Rob Zombie, Six Feet Under, Crowbar, Hatebreed).
Tracklist:
1. We Owe You Nothing
2. Second Chances
3. Saboteur
4. Abandon Everything
5. Longing For Decay
6. Black Overture