Releases: Acherontas - Faustian Ethos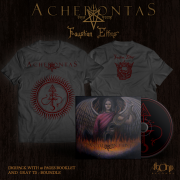 Artist:
Acherontas
Title:
Faustian Ethos
Catalog number:
set187
Format:
T-shirt, gray + digipack CD bundle
Genre:
Black Metal
Origin:
Greece
Release date:
2018
---
Dark-gray Fruit of the Loom Sofspun T-shirt with dark-red prints + digipack CD bundle.
See measurements of the t-shirt here.
Greek occult black metallers with ritual & 70's rock influences, ACHERONTAS, return with their new studio album titled "Faustian Ethos". The follow-up to "Amarta अमर्त" (2017) was recorded in three different studios in Greece, UK and Germany between 2016 and 2017 with mixing and mastering done at Pentagram Studio by George Emmanuel (Rotting Christ, Lucifers Child). The cover artwork was created by George Zafiriadis (www.occulticons.com) and the "Faustian Ethos" sigil was illustrated by VisionBlack.
The band ACHERONTAS stands at the forefront of the new wave of Greek black / occult metal scene, with strong dedication to spirituality, mysticism and magic, in both sound and image. As such, it is considered by its members as an otherworldly project; a medium, where Hellenic metal meets eastern philosophy and retro rock. 
Tracklist:
1. Τhe Fall of the First Pillar
2. Sorcery and the Apeiron
3. Aeonic Alchemy (Act i)
4. Faustian Ethos
5. The Old Tree and the Wise Man
6. The Alchemists of the Radiant Sepulchre (Act ii)
7. Decline of the West (O  Ιερεας και ο Ταφος)
8. Vita Nuova