Releases: Origin - Chaosmos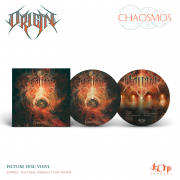 Artist:
Origin
Title:
Chaosmos
Catalog number:
ARlp216_PD
Format:
12" gatefold PD
Genre:
Death Metal
Origin:
U.S.A.
Release date:
2022
Availability:
Order here
Limited to 250 handnumbered copies picture disc + digital download code.
The long-standing outfit celebrate not only their eighth full-length installment, but also ring in their 25th year on "Chaosmos." The same fury, brutality, and musical savvy that brought ORIGIN critical acclaim and a devout fanbase on "Unparalleled Universe" (2017), "Antithesis" (2008) and "Origin" (2000), returns with reinvigorated intensity, passion, and skill. In 2022, the group - Paul Ryan (guitars/backing vocals), Mike Flores (bass/backing vocals), John Longstreth (drums), and Jason Keyser (lead vocals) - are undeterred by unprecedented roadblocks and global uncertainty as they push forward. Indeed, ORIGIN's new-era shock and awe mission is complete on "Chaosmos."

"The music of Origin is a fusion of order and disorder. Our music is viewed as a meaningless assemblage of infinite perspectives," posits guitarist/vocalist Paul Ryan with cosmic import.

ORIGIN re-tapped Kansas City-based studio guru Rob Rebeck (Unmerciful, Vänlade) to engineer, produce and mix "Chaosmos." The production team holed up in GFM Recording Studios in Blue Springs, Missouri and Chapter 2 Recording in Lenexa, Kansas, over 14 days. Rebeck worked the mix over four days, while Colin Marsten at Menegroth in Queens, New York, mastered "Chaosmos" in two. The goal was, as always, to preserve yet expand upon ORIGIN's savage signature, and that's precisely what Rebeck and Marsten achieved. If "Unparalleled Universe" was the crawling insanity that is Nyarlathotep, then "Chaosmos" is the crushing tentacles of Cthulhu.
Tracklisting:
1. Ecophagy
2. Chaosmos
3. Cogito, Tamen Non Sum
4. Panoptical
5. Decolonizer
6. Cullscape
7. Nostalgia for Oblivion
8. Heat Death