Releases: Shadows - Shadows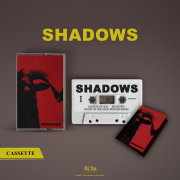 Artist:
Shadows
Title:
Shadows
Catalog number:
ARmc004
Format:
Tape
Genre:
Dark Avant Garde Metal/Rock
Origin:
U.S.A.
Release date:
2021
Availability:
Order here
Limited to 100 handnumbered copies tape.
Debut mini album featuring members of Immolation and Goreaphobia performing dark avatngarde metal with classic influences (featuring Pink Floyd, Celtic Frost, Sisters of Mercy, Black Sabbath, Mercyful Fate and Voivod). Mixed and mastered by Tore Stjerna at Necromorbus Studios.
Line-up: Alex Bouks, Henny Piotrowski, Jake G. and Lance Walter.
Tracklist:
1. Ghost of Old
2. Shadows
3. Night of the Goat Winter Moon
4. Elders
5. Sea of Dust
6. Ancient Eyes