Releases: Pestilence - Mallevs Malleficarvm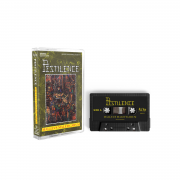 Artist:
Pestilence
Title:
Mallevs Malleficarvm
Catalog number:
ARMC014
Format:
Tape
Genre:
Progressive Death Metal
Origin:
The Netherlands
Release date:
2023
Availability:
Order here
Limited tape.
2023 re-release, remastered to significantly improve on overall audio quality. The remaster was done by Satanic Audio (Behemoth, Azarath).
"Malleus Maleficarum" is the debut album of PESTILENCE; a band's whose input – that stretches across nearly 40 years – blazed the trail for generations of progressive death metal artists.
Every journey has a first step, and PESTILENCE has taken its in 1986, as a trio comprising Patrick Mameli (currently sole original member; at the time bassist, guitarist and vocalist), Randy Meinhard (guitars) and Marco Foddis (drums). With a 1987 demo "Dysentery" to their name, they were joined by Martin van Drunen, who took over vocal duties from Mameli; and, who - similarly to Mameli - is nowadays the sole original member of Apshyx. The fourpiece recorded a second demo, "The Penance", and then moved onto completing the material for "Malleus Maleficarum", which surfaced a year later, in September of 1988.
The album was originally  released in cassette on RC Records (a sub-label of Roadracer Records, which later changed name to Roadrunner Records) and today, stands firmly as a monument of early-day death metal heavily mixed with thrash. "Malleus Maleficarum's" history traces back to the beginnings of the genre; the album preceded Death's "Leprosy" by a month, while Morbid Angel was yet to release its first album.
A must-have for all PESTILENCE fans, and a perfect looking glass into the dawning of a legendary group!
Commented by Patrick Mameli: "As we were still very young and unexperienced with recording an album in a studio, trying to find our own style, we managed just fine here. Very Thrashy style with some hints to Possessed, Slayer and Infernal Majesty".
Tracklisting:
1. Malleus Maleficarum / Antropomorphia
2. Parricide    
3. Subordinate to the Domination    
4. Extreme Unction    
5. Commandments    
6. Chemo Therapy    
7. Bacterial Surgery    
8. Cycle of Existence    
9. Osculum Infame    
10. Systematic Instruction