Releases: Pestilence - Spheres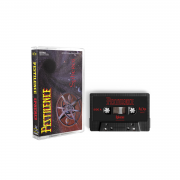 Artist:
Pestilence
Title:
Spheres
Catalog number:
ARMC017
Format:
Tape
Genre:
Progressive Death Metal
Origin:
The Netherlands
Release date:
2023
Availability:
Order here
Limited tape. 
2023 re-release, remastered to significantly improve on overall audio quality. The remaster was done by Satanic Audio (Behemoth, Azarath).
"Spheres" (1993) broke the mold at a time the metal scene wasn't ready to appreciate its uniqueness or recognize its future impact. Underestimated at first, the bold conjunction of jazz fusion and progressive/technical death metal, trailblazed by PESTILENCE, had eventually been lauded as a move ahead of its time, and had influenced a lot of bands, including Gorguts, Necrophaigst and Obscura.
The album was recorded at studio Arnold Mühren in northern Netherlands and originally released in CD format in May 1993 on Roadrunner Records. Its line-up consisted of Patrick Mameli on vocals & guitars, Jeroen Paul Thesseling (who replaced Tony Choy and later joined Obscura) on bass,  Patrick Uterwijk (Pestilence: 1989 – 2013) on guitars and Marco Fodis (Pestilence: 1986 – 1994) on drums. Dan Seagrave's (Morbid Angel, Entombed, Suffocation) first cover artwork was rejected by the band and replaced with its second iteration, featuring a different depiction of the sphere object. Mameli wished for it to resemble the sphere found in "Testimony of the Ancients" (1991) artwork.
Upon street date, "Spheres" divided the band's fanbase, with only some recognizing it for the stroke of genius it was. The record left PESTILENCE dormant for over ten years, until 2009's "Resurrection Macabre" (if not to count a "best off" album issued by Roadrunner Records and several other re-releases, many of which saw daylight without the band's awareness or consent).
Commented by Patrick Mameli: "Spheres was, and still is, an important release since it introduced the guitar synth as a true instrument in our musical tools arsenal. It helped us shape this album with a new pallet of colours. Only Cynic was doing something similar, but Pestilence took it beyond and created new musical dimensions. Also the musical approach of songwriting and lyrics made it that Pestilence took a big risk at that time. Now, for some fans this is their most favorite album. Funny how things evolve in time."
Tracklisting:
1. Mind Reflections    
2. Multiple Beings    
3. The Level of Perception    
4. Aurian Eyes    
5. Soul Search    
6. Personal Energy    
7. Voices from Within    
8. Spheres    
9. Changing Perspectives    
10. Phileas
11. Demise of Time