Releases: Pestilence - Testimony of the Ancients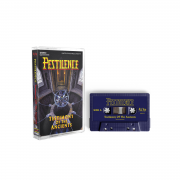 Artist:
Pestilence
Title:
Testimony of the Ancients
Catalog number:
ARMC016
Format:
Tape
Genre:
Progressive Death Metal
Origin:
The Netherlands
Release date:
2023
Availability:
Order here
Limited tape.
2023 re-release, remastered to significantly improve on overall audio quality. The remaster was done by Satanic Audio (Behemoth, Azarath).
After releasing the now-timeless classic "Consuming Impulse" in 1989, PESTILENCE was faced with the necessity of replacing a notable member – vocalist Martin van Drunen - following his departure to pursue a career with Asphyx. The band found themselves at the crossroads with an uneasy task, given the success brought about by "Consuming Impulse". As it turns out, the decision to revert to Patrick Mameli as vocalist not only stood the test of time, but, in hindsight, gave birth to a trademark ingredient of PESTILENCE's core sound formula. To make things even more interesting, Mameli stepped away from playing bass – from now on assuming the double role of guitarist/vocalist -  and enlisted Tony Choy (of Cyinc at the time), adding another famed name to the line-up, and another anchor point for the band's inventive nature. Alongside Patrick Uterwijk (guitars) and Marco Foddis (drums), they recorded "Testimony of the Ancients" (1991) at the legendary Morrissound Studios (USA), where it acquired a refined production, courtesy of Scott Burns.
"Testimony of the Ancients" is regarded as a progressive death metal classic from the originators of the genre. In comparison with the first three PESTILENCE albums, the material wasn't as abrasive, the musicianship matured, and the band's previously found, innovate, technical accretions, rose to new, ingenious levels. At the time of the album's release the demand for PESTILENCE elevated as never before and entailed massive touring; noteworthy is the band's lauded performance at the Dynamo Open Air Festival from that period.
Commented by Patrick Mameli: "Seen as one of the most influential albums from that timeframe, I felt, for the first time, I was freed from influences from other big D.M. bands, as my style was now  a free interpretation of my brainchild that is PESTILENCE."
Tracklisting:
1. The Secrecies of Horror    
2. Bitterness    
3. Twisted Truth    
4. Darkening    
5. Lost Souls    
6. Blood    
7. Land of Tears    
8. Free Us from Temptation    
9. Prophetic Revelations    
10. Impure    
11. Testimony    
12. Soulless    
13. Presence of the Dead    
14. Mindwarp    
15. Stigmatized
16. In Sorrow