Releases: Infernal War - Axiom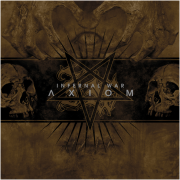 Artist:
Infernal War
Title:
Axiom
Catalog number:
ARlp125_B1
Format:
12" gatefold LP [ silver ] + booklet
Genre:
Black/Death Metal
Origin:
Poland
Release date:
2015
Availability:
Order here
Limited to 150 hand-numbered copies silver vinyl in a heavy gatefold cardboard sleeves with 16 pages vinyl-sized booklet + digital download.

Long awaited 3rd studio album of INFERNAL WAR!
"Axiom" was recorded, mixed and mastered in No Solace Studio with M. (Mgła/Kriegsmaschine). The album cover was created by Mentalporn. The 11  new songs on "Axiom" clock in at around 42 minutes.
On the new material, the band commented: "Axiom is the essence of Infernal War. At the same time, it's not a copy of our previous works. The new material is more mature, diversified and bloody uncompromising. It's very grim, both musically and lyrically. We have no doubt, that Axiom is our crowning achievement".
Line-up:
Herr Warcrimer - vocals
Zyklon - guitars
Triumphator - guitars
Godcrusher - bass
Stormblast - drums
Tracklist:
I. Coronation
II. Militant Hate Church
III. Into Dead Soil
IV. Paradygmat
V. Nihil Prayer
VI. The Parallel Darkness
VII. Transfigure
VIII. Eater Of Hope
IX. Camp 22
X. No Forgiveness
XI. Axiom