Releases: Forgotten Tomb - Songs to Leave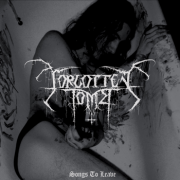 Artist:
Forgotten Tomb
Title:
Songs to Leave
Catalog number:
ARlp171
Format:
12"LP
Genre:
Suicidal Black Metal
Origin:
Italy
Release date:
2018 re-release
Availability:
Order here
---
Pre-order. The item will be available from the 22nd of February 2019.
Regular black 12"LP + digital download code.
Re-release of band's classic album. Re-mastered.
Tracklist:
1. Entombed by Winter
2. Solitude Ways
3. Steal My Corpse 
4. No Way Out
5. Disheartenment

Upcoming releases
Upcoming shows
FORGOTTEN TOMB
22/Feb/2019
Cazzano S.M. (Brescia) @ Rock Out Live Club, IT

FORGOTTEN TOMB
23/Feb/2019
Vicenza @ CS Bocciodromo, IT

DECLINE OF THE I
01/Mar/2019
Nantes @ Le Ferrailleur, FR

FORGOTTEN TOMB
01/Mar/2019
Erfurt, @ Club From Hell, DE

DECLINE OF THE I
02/Mar/2019
Clermont Ferrand @ Raymond Bar, FR

FORGOTTEN TOMB
02/Mar/2019
Dresden @ Skull Crusher, DE

OCTOBER TIDE
09/Mar/2019
Rotterdam @ In The Grip Of Winter fest 2019, NL

ACHERONTAS
23/Mar/2019
Amstelveen @ Doomsday Celebration Fest V, NL

LUCIFER'S CHILD
23/Mar/2019
Sofia @ Live & Loud, BG

ACHERONTAS
24/Mar/2019
Wroclaw @ Liverpool, PL


---