Releases: Root - Viginti Quinque Annis In Scaena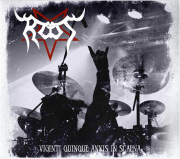 Artist:
Root
Title:
Viginti Quinque Annis In Scaena
Catalog number:
ARcd114
Format:
digi CD + DVD
Genre:
Dark Metal
Origin:
Czech Republic
Release date:
2013
Availability:
Order here
Special, limited to 666 copies, anniversary CD + DVD release of Root in concert marking the impressively long and imposingly active 25 years of band's existence in the metal scene. Featuring professionally recorded and edited live footage with no overdubs or censorhip.
Bonus DVD featuring road documentaries full of backstage, bonus and exclusive material as well as live songs filmed at Hammer Open Air (Lieto, Finland 2012), Noctis Fest (Calgary, Canada 2010), Brutal Assault Festival (Josefov, Czech Republic 2007+2012), No Mercy European Tour 2007, Melodka club Brno and Prague´s Matrix Venue.
https://www.youtube.com/watch?feature=player_embedded&v=I3agka-4VmA