Releases: Antarktis - Ildlaante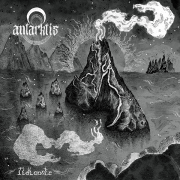 Artist:
Antarktis
Title:
Ildlaante
Catalog number:
ARcd173
Format:
digipack CD
Genre:
Metal/Post-Rock
Origin:
Sweden
Release date:
2017
Availability:
Order here
Digipack CD.

Sweden's metal/post-rock newcomers and Agonia Records recent signees ANTARKTIS, reveal details of their debut album "Ildlaante". Set to be released on October 6th, the record features six tracks with a playing time of 52 minutes.
ANTARKTIS was co-founded by guitarists Björn Pettersson (In Mourning) and Tobias Netzell (In Mourning, ex-October Tide). Initially a few songs were written, yet laid on ice before they ever saw the light of day. As years passsed, the idea of ANTARKTIS was picked up once again, and what first started out as an after work side project, ventured off into a territory uncharted by the duo's mother band, In Mourning. Thanks to vocalist and bassist Daniel Jansson (Ikhon) and drummer Jonas Martinsson (Me The Tiger, Necrosavant), the line-up got completed in 2013, giving ANTARKTIS new life and a personality of its own.
"Ildlaante" was recorded between September 2016 and February 2017 in three different studios in Sweden. Drums were tracked with Alexander Backlund and Sebastian Svalland at Nailvillage Studio. Guitars, bass, vocals and keyboards at Studio Libra, while additional vocals at Ikhon HQ. The record was mixed and mastered by Karl Daniel Lidén (Breach, Terra Tenebrosa, The Old Wind). Artwork was created by Emy Rojas of Arrache-toi Un Oeil (Converge, Sunn O))) and Clutch).

Tracklist:
1. Aurora
2. Svalbard
3. Notes From Underground
4. Ildlaante
5. Cape Meteor Pt 1
6. Cape Meteor Pt 2