Releases: Total Hate - Depopulating Planet Earth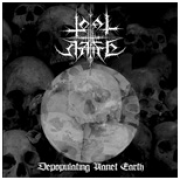 Artist:
Total Hate
Title:
Depopulating Planet Earth
Catalog number:
ARcd052
Format:
CD
Genre:
Black Metal
Origin:
Germany
Release date:
2008
Availability:
Order here
Debut album of the German Black Metal stronghold. 7 raw black metal tracks. Inverted crosses, pentagrams, burning candless, black leathers and devil worship! Features: Adrastos (vocals, guit), Erebos (guit), Aer (bass) and Winterheart (drums).