Releases: Demonical - Servants of the Unlight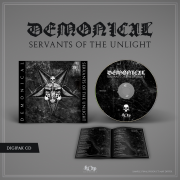 Artist:
Demonical
Title:
Servants of the Unlight
Catalog number:
ARcd232
Format:
digipak CD
Genre:
Death Metal
Origin:
Sweden
Release date:
2021
Availability:
Order here
Pre-order. This item will be available on the 8th of October 2021.
De-luxe digipak CD.
Re-release of the debut album on a de-luxe digipak CD with re-wamped artwork and layout by Ra-Design (Nightfall, Varathron, Anaeon, etc.). Pressed from original master tapes!
Tracklist:
01. Suicide Throne
02. Revel in Misanthropia
03. Burned Alive
04. Feeding the Armageddon
05. United in Torture
06. SLlaughter of all Hope
07. Unholy Desecration
08. Leipzig 1945