Releases: Centinex - Doomsday Rituals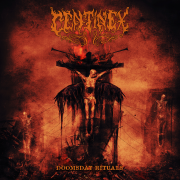 Artist:
Centinex
Title:
Doomsday Rituals
Catalog number:
ARcd154
Format:
digipack CD
Genre:
Death Metal
Origin:
Sweden
Release date:
2016
Availability:
Order here
Digipak CD limited to first press.

CENTINEX originated in 1990 as a riff-oriented part of the classic Swedish death metal movement and disbanded in 2005 after releasing eighth full-length albums. In 2014 they surprisingly resurfaced with a refreshed line-up of Martin Schulman (Demonical) on bass, Sverker Widgren (Demonical, Diabolical) on guitars, Alexander Högbom (October Tide, Spasmodic) on vocals and Kennet Englund (Interment, Centinex 1999-2003) on drums. Year 2014 also saw the release of their come-back record, "Redeeming Filth".

The band dosen't want the fans to be kept waiting another near-decade for a new album. Titled "Doomsday Rituals",  the record is a natural follow-up to "Redeeming Filth". Martin Schulman (bass) commented: "Heavy riffing, deep brutal vocals, everything from slow via mid-tempo to faster stuff, a perfect mix of the early 90's Florida and Stockholm sound".

"Doomsday Rituals" was recorded at Wing Studios with Sverker Widgren (Centinex, Demonical, Diabolical) behind the knobs. The cover artwork was made by Bahrull Marta of Abomination Imagery.

Tracklist:
1. Flesh Passion
2. From Intact to Broken
3. Dismemberment Supreme
4. Generation of Flies
5. The Shameful Few
6. Doomsday
7. Exist to Feed
8. Death Decay Murder
9. Sentenced to Suffer
10. Faceless