Releases: Endezzma - Erotik Nekrosis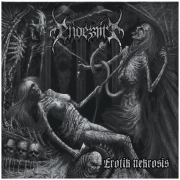 Artist:
Endezzma
Title:
Erotik Nekrosis
Catalog number:
ARcd079
Format:
digipack CD
Genre:
Black Metal
Origin:
Norway
Release date:
2012
Availability:
Order here
The seven-track album, which will be the band's debut full length and a follow up to 2008's MCD Alone, is to be titled Erotik Nekrosis. 
Erotik Nekrosis has a line-up of musicians who between them can lay claim to decades of experience garnered in the earlier and darker recesses of the Norwegian Black Metal scene and which includes Morten Shax on vocals, the late Trondr Nefas (Urgehal, Beastcraft, Angst Skvadron, Vulture Lord) and Mattis Malphas (Beastcraft) on guitars, Sregroth (Urgehal, Åsmegin) on bass and Carl Balam (Nattefrost, Astaroth, ex Infernal) on drums.  It was recorded at the Slaughterhaus Studio in Oslo and crafted by the Hollywood producer Robert Blix.  Artwork is by the Kazakhstani artist Alexandr Balinets. Track listing for Erotik Nekrosis is as follows:

1) Junkyard Oblivion
2) Enigma of the Sullen
3) Against Them All
4) Swansong of a Giant
5) Hollow
6) Krossing the Rubikon
7) Soulcleansing
Limited to the 1st press digipack CD with 16 pages booklet.