Releases: Usurpress - Interregnum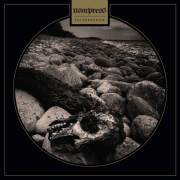 Artist:
Usurpress
Title:
Interregnum
Catalog number:
ARcd177
Format:
digipack CD
Genre:
Epic Death Metal
Origin:
Sweden
Release date:
2018
Availability:
Order here
---
Digipack CD.

Swedish self proclaimed "primitive and progressive" death metallers Usurpress return with a new, bold album. This time, core members Stefan Pettersson (vocals, lyrics), Påhl Sundström (guitars, music) and Daniel Ekeroth (bass, music) are joined by jazz-fusion drummer Stefan Hildman and ambient/trance keyboardist Erik Sundström, and the outcome astounded even the band itself. "Interregnum" can be been described as "an unholy mix between Camel and Bolt Thrower, that somehow works flawlessly", so be prepared for something quite out of the ordinary. And out of this world.
Recorded and mixed in famed Dugout Productions Studio (Soilwork, Behemoth, In Flames, Dark Funeral). Death Metal writer Daniel Ekeroth on bass (author of the book "Swedish Death Metal").
Tracklist:
1. A Place in the Pantheon
2. Interregnum
3. In Books Without Pages
4. Late in the 11:th Hour
5. Ships of Black Glass (I: Shards, II: Black Echo)
6. The Iron Gates Are Melting
7. The Vagrant Harlot