Releases: Vorkreist - Sigil Christ Whore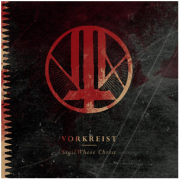 Artist:
Vorkreist
Title:
Sigil Christ Whore
Catalog number:
ARcd099
Format:
Ltd digipack CD
Genre:
Black/Death Metal
Origin:
France
Release date:
2012
Availability:
Order here
New album of VORKREIST! 9 fat black/death metal tracks full of great riffs and unique atmosphere.
Recorded at Drudenhause Studios (Alcest, Les Discrets). Members of Hell Militia, ex-Antaes, ex-Secrets Of The Moon, Merrimack, etc.
Limited to 1st press noble digipack CD. Apart from amazing artwork and layout by Abrakadabra Stusios it's truly unique 6 colours and 2 panels digipack CD with fold out poster on a thick glossy paper.
Samples:
http://soundcloud.com/agoniarecords/vorkreist-maledicte
http://soundcloud.com/agoniarecords/vorkreist-dominus-illuminatio