Releases: Tombstone Highway - Rularizer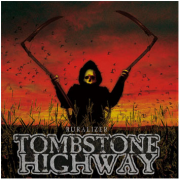 Artist:
Tombstone Highway
Title:
Rularizer
Catalog number:
ARcd103
Format:
digipack CD
Genre:
Stoner/Rock/Doom
Origin:
Italy
Release date:
2013
Availability:
Order here
Tombstone Highway emerges from the muddy shores of The Po River in Piacenza (Italy) and draws strong inspiration from the rural and folklore parts of its homeland. Their debut album is a classic blend of feisty Stoner/Southern Rock and Doom Metal, with catchy guitar solos and old-school heavy metal parts that may remind of Lynyrd Skynyrd, Corrosion of Conformity, Pride and Glory, Down, Black Sabbath, or even ZZ Top riffage. Apart from Hard Rock instruments, the band uses also a banjo and Hammond organs.

Commented by the band: "We're very proud of how the album came out and we strongly believe it's the perfect way to begin our legacy. People into heavy, ballsy southern-tinged Hard Rock should take note!"
If you love rock'n'roll you wil love this band!
Track from the upcoming album:
http://www.youtube.com/watch?v=fStdGMMEASw&feature=youtu.be
http://www.youtube.com/watch?v=3MxU6RvxqxQ&feature=youtu.be