Releases: Demonical - Hellsworn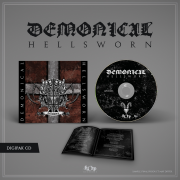 Artist:
Demonical
Title:
Hellsworn
Catalog number:
ARcd233
Format:
digipak CD
Genre:
Death Metal
Origin:
Sweden
Release date:
2021
Availability:
Order here
Pre-order. This item will be available on the 8th of October 2021.
De-luxe digipak CD.
Re-release of the 2nd album on a de-luxe digipak CD with re-wamped artwork and layout by Ra-Design (Nightfall, Varathron, Anaeon, etc.). Pressed from original master tapes!
Tracklist:
01. Baptized in Fire
02. World Serpent
03. Infernal Void
04. Bloodridden
05. Götter des Nordens
06. Children of Sin
07. Death Metal Darkness
08. Bow to the Moonlight
09. Hellsworn
10. The Nightmare Continues*
11. Gods of the North*
*CD bonus tracks