Releases: Varathron - Untrodden Corridors of Hades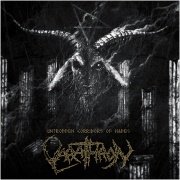 Artist:
Varathron
Title:
Untrodden Corridors of Hades
Catalog number:
ARcd131
Format:
Limited Box CD
Genre:
Black Metal
Origin:
Greece
Release date:
2014
The Greek based band consists of Stefan Necroabyssious (vocals), Achilleas C (guitars), Sotiris (guitars), Stratos (bass) as well as Haris (drums) and has been active on the stage since 1989. Band's early albums are considered to be the cornerstones of the Hellenic black metal scene, alongside the releases of Necromantia and Rotting Christ, with whom the group shared members as well as similar fascination towards early style. VARATHRON's trademark are mid-paced riffs that have a classic, old-school feel strengthened by a progressive view, as well as epic atmosphere that only few can match. Band's discography includes black metal gems of the 90's such as "His Majesty at the Swamp"(1993) and "Walpurgisnacht" (1995).

"Untrodden Corridors of Hades" was recorded, mixed and engineered by Kostas Kalampokas at Infinite Loop Music Studio (https://www.facebook.com/InfiniteLoopStudio), Greece and mastered by Tom Kvålsvoll at Strype Audio (1349, Arcturus, Darkthrone, Emperor, Code, Ulver) in Norway.
The cover has been created by Mark Riddick (Arsis, Absu, Mystifier, Nun Slaughter, The Black Dahlia Murder).
Limited to 500 numbered copies clam-shell box including: digipack CD with the new album, exclusive bonus CD including band's rare tracks from splits and rare vinyls; woven gold logo patch and A3 poster with new album's cover artwork.

Tracklist - CD # 1:
01. Kabalistic Invocation of Solomon
02. Realm of Obscure
03. Arcane Conjuring
04. Leprocious Lord
05. The Bright Trapezium
06. Death Chant
07. Delve Into the Past
Tracklist - CD # 2*:
01. Astrophobos
02. Arwan's Reich
03. Black Swamp
04. Ancient Warrior
05. To Thou Who Contemn The Light
06. The Cult of the Dragon
07. The Tressrising of Nyarlathotep
08. La Reine Noir
09. Outro
Track 1 taken from "Old Demons Rise", split with Den Saakaldte, 2014.
Tracks 2, 3, 4 taken from "Emissaries of the Darkened Call - Three Nails on the Coffin of Humanity", 3
way split with Black Altar and Thornspawn, 2012.
Track 5, taken from "Darkness Has Landed", split with Desolation, 2009
Tracks 6, 7, 8, 9 taken from "Black Arts Lead to Everlasting Sins", split with Necromantia, 1992
All music and lyrics by Varathron except 3* by Black Sabbath.