Releases: Abigail - Evil Metal Massacre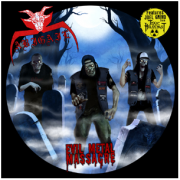 Artist:
Abigail
Title:
Evil Metal Massacre
Catalog number:
ARlp029b
Format:
12" gatefold DLP (white)
Genre:
Thrash/Black Metal
Origin:
Japan
Release date:
2012
Availability:
Order here
Live album of ABIGAIL. Exclusive cover artwork designed by Grimart. Die Hard white vinyls with alternative red labels. Limited to 100 copies only!
Tracks recorded in Italy and Thailand with a very good sound quality. Features Joel Grind of Toxic Holocaust on guitars.