Releases: Acherontas - Vamachara + Demo 1997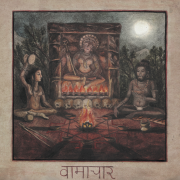 Artist:
Acherontas
Title:
Vamachara + Demo 1997
Catalog number:
ARlp092_RB
Format:
12" gatefold gold DLP
Genre:
Black Metal
Origin:
Greece
Release date:
2017 re-release
Limited to 111 hand-numbered copies double gold vinyl in gatefold sleeves + digital download code.

Re-release of Acherontas' Vamachara on a limited double black heavy vinyl in heavy gatefold sleeves. Includes demo of WORSHIP Through The Dark Age We Are Dreaming (demo 1997) as exclusive bonus (for the first time on vinyl!). New cover artwork and layout made by Viktoria Polikarpova/Visionis Phosphorescent.
Tracklist:
VAMACHARA
1.     Opening the Eye of the Storm
2.     Blood Current Illumination
3.     Αβραξας
4.     Vamachara
5.     Ohm Krim Kali
6.     Beyond the Mazeways to Ophidian Gnosis
7.     Drakonian Womb (Double Mem and Single Aleph)
WORSHIP
8.     Dark Endless
9.     Through the Dark Age We Are Dreaming
10.     Pagan Warriors
11.     Worship