Releases: Deranged - Postmortem Rituals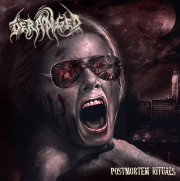 Artist:
Deranged
Title:
Postmortem Rituals
Catalog number:
ARlp142_b
Format:
12" gatefold DLP (red)
Genre:
Death Metal
Origin:
Sweden
Release date:
2016
Availability:
Order here
Limited to 150 handnumbered copies double red vinyl.

Limited double vinyl which is a compilation of rare and unreleased tracks of DERANGED. All of them are re-masterred from original DAT tapes. Track list on the vinyl differs from tracklist on the CD. The CD version is available exclusivelly with the Struck by a Murderous Siege box-set CD.

The DLP includes: "...the Confessions Continues" 7"EP "Upon the Medical Slab" 7"EP "The Confessions of a Necrophile" demo I and previously unreleased studio session from 1997.
 
Tracklist:
SIDE a:
1. Orgy of infanticide exposed corpses Part 2
2. ...the confessions of a necrophile
3. Nervus thoracicus longus Part 2
4. Upon the medical slab
5. Red disorder

SIDE b:
1. The maceration of a carbuncular embryo
2. Nervus thoracicus longus
3. Orgy of infanticide exposed corpses
4. ...the confessions of a necrophile

SIDE c:
1. Raised on human sin
2. Razor divine
3. Robber of life
4. By knife…

SIDE d:
1. Hammer cottered rectum (Alt. version)
2. Razor tongue (Alt.  version)
3. Cold gin (Kiss cover)
4.D In league with Satan (Venom cover)
5. Some kinda hate (Misfits cover)