Releases: Aosoth - IV: An Arrow in Heart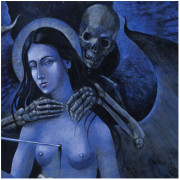 Artist:
Aosoth
Title:
IV: An Arrow in Heart
Catalog number:
ARlp105_B2
Format:
12"DLP [haze vinyl]
Genre:
Black Metal
Origin:
France
Release date:
2013-04-16
New album. Limited to 100 copies double gatefold LP. Transparent vinyl with blue haze. LAST COPIES!

The band comments: "IV:Arrow In Heart" holds yet a bigger spiritual meaning: "We've spent such a huge amount of time on defining a darker identity, yet open to a wider range of influences. Those tracks still haunt us, as delivering them was a painful and excruciating experience, and left some of us even physically wounded... Which gives that album even more of a spiritual value, as it involved a form of sacrifice."  The band also added: "This fourth full-length release is without a doubt a great step forward for us in term of music writing, and sound."
Aosoth - IV - 6 - "Ritual marks of penitence". OFFICIAL VIDEO -
http://www.youtube.com/watch?v=me6jwsEPKXc