Releases: In Mourning - Afterglow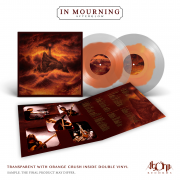 Artist:
In Mourning
Title:
Afterglow
Catalog number:
ARlp138RP
Format:
12" gatefold DLP (colored)
Genre:
Melodic Death / Doom Metal
Origin:
Sweden
Release date:
2022 re-press
Availability:
Order here
Limited to 200 hand-numbered copies double clear vinyl with orange-crush inside. Comes with a digital download code.
Second press of the sold-out vinyl. The cover artwork has been prepared by Kristian Wåhlin (Bathory, Tiamat, Amorphis, Dark Tranquillity).
IN MOURNING commented: "The new album is called "Afterglow" and its story takes off from where "The Weight Of Oceans" ends. It's a bit more complex than our previous albums and it has got a bit of a different sound than the older ones, a bit more alive like a band and maybe not always as studio corrected as our earlier material. However, the foundation of the music is still what we've always done and the key elements are pretty much the same but with some new additions and a few new twists and turns of course".

This was the first album featuring new drummer, Daniel Liljekvist (ex-Katatonia).

Hailed by many as the heir to Opeth's melodeath throne, IN MOURNING was formed in the Swedish woods in the year 2000. Since then the band has evolved over the years striving to refine its sound to what it is today. April 2012 marked the release of the bands third and latest album "The Weight Of Oceans", a mythology inspired conceptual story that journeys to the sea. Musically, the group blends a broad spectrum of influences into a foundation of melodic death metal. Thrusting from doomy metal-riffs, blasting drumbeats and deep growling vocals to calm breezes of clean flowing melodies and harmonies.

"Afterglow"has been recorded between November 2015 and March 2016 in Nordin Music Studios (drums) and Libra Studios (guitar, bass and vocals). Mixing and mastering duties have been handeled by Jonas Martinsson in Necrosavant Studio.

Tracklist:
01. Fire And Ocean
02. The Grinning Mist
03. Ashen Crown
04. Below Rise To The Above
05. The Lighthouse Keeper
06. The Call To Orion
07. Afterglow