Releases: Decrepit Birth - Axis Mundi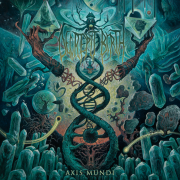 Artist:
Decrepit Birth
Title:
Axis Mundi
Catalog number:
ARLP145
Format:
12" gatefold black DLP
Genre:
Death Metal
Origin:
U.S.A.
Release date:
2017
Availability:
Order here
Limited double black vinyl in gatefold sleeves + insert with lyrics.

Hailing from California, U.S., the esoteric techincal death metallers DECREPIT BIRTH are set to release their first new album in seven years, "Axis Mundi", on July 21st

Awakening from a seven-year slumber, the Californians fourth offering is entwined with musical athleticism and characteristic esoteric themes. "Axis Mundi" is as crushing as it is cosmic.
"We've gone through an evolution throughout the years" says founding member and primary songwriter Matt Sotelo. "The last couple of albums we had, Diminishing Between Worlds and Polarity, were more progressive death metal. They were different from …And Time Begins, which is a different genre of death metal. It's more brutal. I'm the type of guy who likes to experiment. …And Time Begins has no solos. It's all really fast palm-muted riffs. The other albums breathed more with the guitars. I let chords ring out on Diminishing Between Worlds and Polarity. Axis Mundi is combination of all the stuff I'm into. I like it a lot right now. It's more melodic. The riffs repeat intentionally. I want to have fun with these songs".

The album was recorded at three different studios over the course of a year. The clarity, the power, the musicianship, and the brutality aren't vying for attention. They're in absolute harmony. The guitars (tracked by founder Matt Sotelo at his home studio) are razor sharp yet spine-snappingly heavy. The drums (tracked by Ryan Forsyth at Private Ear Studios in Winnipeg, Canada) are genre-defining, recalling what Sean Reinert, Gene Hoglan, and Steve Flynn did for Death and Atheist, respectively. And the bass (tracked by Sean Martinez, also at his home studio) has a great deep-end against the ceaselessly wicked rhythms. Tracks like "Hieroglyphic", "Spirit Guide", and "The Sacred Geometry" wouldn't have crushed skulls and blown minds if it wasn't for the accomplished mixing and mastering of Stefano Morabito at 16th Cellar Studios. The icing on the cacke is the astonishing cover artwork that was made by renowned fantasy artist Dan Seagrave (Morbid Angel, Entombed, The Devil Wears Prada).
Tracklist:
1. Vortex of Infinity…Axis Mundi
2. Spirit Guide
3. The Sacred Geometry
4. Hieroglyphic
5. Transcendental Paradox
6. Mirror of Humanity
7. Ascendant
8. Epigenetic Triplicity
9. Embryogenesis
10. Orion
11. Desprate Cry
12. Infecting the Crypts