Releases: Den Saakaldte - All Hail Pessimism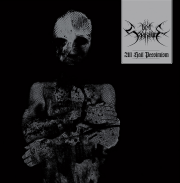 Artist:
Den Saakaldte
Title:
All Hail Pessimism
Catalog number:
ARlp097b
Format:
12" gatefold DLP [ deep purple ]
Genre:
Depressive Black Metal
Origin:
Norway
Release date:
2014
Den Saakaldte's debut album for the first time on vinyl.
Limited to 50 copies double deep purple vinyl in gatefold sleeves. Comes with an exclusive bonus track Wheel of Fortune (Pentagram cover).
Track list:

1. Audhumla     
2. La vinteren vare evig     
3. Vandringen     
4. Satans synder     
5. Frykten for det opprinnelige øde     
6. Samma skrot, samma korn     
7. Drikke ens skål     
8. Mesias     
9. Den endelige tankens ufravikelige konsekvens
10. Jag är den fallna
11. Wheel of Fortune (Pentagram cover)