Releases: Infernal War - Conflagrator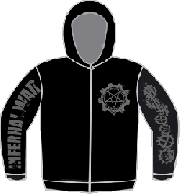 Artist:
Infernal War
Title:
Conflagrator
Catalog number:
ARhsw004
Format:
HSW with zipper
Genre:
Black Metal
Origin:
Poland
Release date:
2009
Embossed dark-grey prints on a black HSW with zip. Limited edition of 100 copies only. High quality cloth. There are also prints on both sides of the hood (pentagrams, similar to the chest prints).

You can watch some pictures of the HSW here.

Measurements click here.