Releases: Voidhanger - Dark Days of the Soul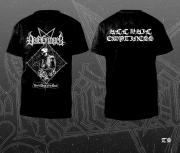 Artist:
Voidhanger
Title:
Dark Days of the Soul
Catalog number:
ARts200
Format:
T-shirt
Genre:
Black/Tharsh Metal
Origin:
Poland
Release date:
2018
---
Black Fruit of the Loom valueweight T-shirt with print. 
See measurements of the t-shirt here.

Conveying their hard-bitten attitude into words, VOIDHANGER commented: "Expect nothing but razor sharp riffs, hateful vocals and merciless drumming, that will turn your safe space into dust".

"Dark Days Of The Soul" was recorded, mixed and mastered in No Solace studio with M. of Mgła. Cover artwork designed by Mentalporn.
Tracklist:
1. Dark Days of the Soul
2. Death Wish
3. Naprzód Donikąd!
4. High on Hate
5. Man of Dark Secrets
6. The Void is Where the Heart is
7. War is Certain, Peace is Not
8. Hailing the Devil in Me