Releases: Arsis - Visitant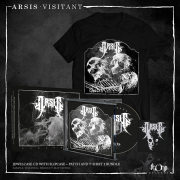 Artist:
Arsis
Title:
Visitant
Catalog number:
set197
Format:
T-shirt II + LTD CD bundle
Genre:
Death Metal
Origin:
U.S.A.
Release date:
2018
---
Limited to 666 numbered copies slipcase CD w/ embroidered patch + black Fruit of the Loom valueweight T-shirt with print.
See measurements of the t-shirt here.
ARSIS shines as a standout in the technical, melodic death metal genre. The Virginia Beach-based quartet derived its name from the musical term "arsis and thesis", in which "arsis" refers to the unaccented part of a measure. The name's origin comes as no surprise, considering co-founder's James Malone's classical education in music (James' a skilled violinist and a composition major), which in turn ads a whole new layer to the way in which ARSIS sounds. And the sound is powerful. ARSIS makes death metal that is righteously tinged with black & thrash influences, but is completely dedicated to expanding the reaches of melodicism and technicality in the genre. "Visitant", the band's sixth studio album, offers a glimpse at a band in its peak form; the same band which recorded 2013's, Billboard-charting "Unwelcome", featuring The Black Dahlia Murder guitarist Brandon Ellis. 

"Visitant", the band's first new album in five years, was recorded, mixed and mastered at Audio Hammer Studio with famed metal producer Mark Lewis(Whitechapel, Devildriver, Cannibal Corpse). The album is replete with cover artwork and layout from Mark Riddick (Arch Enemy, Morbid Angel, Varathron) and features guest appearence of Trevor Strand (The Black Dahlia Murder) and Malcolm Pugh (Inferi).
Tracklist:
1. Tricking The Gods
2. Hell Sworn
3. Easy Prey
4. Fathoms
5. As Deep As Your Flesh
6. A Pulse Keeping Time With The Dark
7. Funeral Might
8. Death Vow
9. Dead Is Better
10. Unto The Knife
11. His Eyes (Pseudo Echo Cover)