Releases: Centinex - Redeeming Filth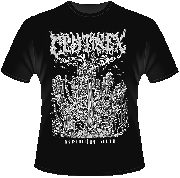 Artist:
Centinex
Title:
Redeeming Filth
Catalog number:
ARts122
Format:
T-shirt + digital download
Genre:
Death Metal
Origin:
Sweden
Release date:
2014
Influenced and inspired by the early 90's classic Florida-scene, "Redeeming Filth" picks up the spirit from our 1992-debut "Subconscious Lobotomy" and leads us back to the golden days of riff-oriented death metal. The future looks soaking  brutal! For fans of Massacre, Obituary, Unleashed, etc. The new album was recorded at Amplified Studios and mixed & mastered at Garageland Studios by Ronnie Björnström (Aeon) during the spring of 2014.
CENTINEX anno 2014 is made of Martin Schulman (Demonical) on bass, Sverker Widgren (Demonical, Diabolical) on guitars, Alexander Högbom (October Tide, Spasmodic) on vocals and Kennet Englund (Interment, Centinex 1999-2003) on drums. 
T-shirt + a code to download the new album!

TRACK LIST:
01. When Bodies Are Deformed
02. Moist Purple Skin
03. Death Glance
04. Stone Of Choice
05. Unrestrained
06. Bloodraze
07. Without Motives
08. Rotting Below
09. Dead, Buried and Forgotten
10. Eye Sockets Empty