Releases: In Mourning - Echoes (4 demos)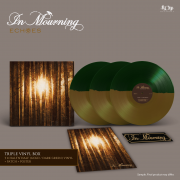 Artist:
In Mourning
Title:
Echoes (4 demos)
Catalog number:
ARLP188_V4
Format:
3 x 12"LP BOX (half
Genre:
Melodic Death / Doom Metal
Origin:
Sweden
Release date:
2020
Availability:
Order here
Limited to 105 hand-numbered copies heavy tripple half'n'half (olive green / gold) vinyl in a de-luxe thick cardboard box. Comes with A2 and embroidered old gold logo patch. High volume cut vinyl!
Four first demos of IN MOURNING for the first time released together as 3LP box-set. No CD, no digital release only high-volume cut vinyl. Cover artwork by Kristian Wahlin aka Necrolord. Layout by RaDesign.
TRACKLIST:
SIDE A
Demo I – "In Mourning"
1. Eyes Of The Night
2. Awake Those Wrapped In Dusk
SIDE B
Demo I – "In Mourning"
3. Sins Within An Angel
4. Through The Depth Of Misery
SIDE C
Demo II – "Senseless"
1. Senseless
2. In Tears She Went Away
3. Interpret The Signs
SIDE D
Demo II – "Senseless"
4. Underneath The Dreams
5. Life Emulation
6. Sad Serenity
SIDE E
Demo III – "Need"
1. Stain Of Perverse
2. Dark From Different Lights
3. Need
SIDE F
Demo IV – "Confessions Of The Black Parasite"
1. Confessions
2. By Others Considered
3. The Appeal
4. Porcelain Kiss
5. A Parlour For The Crestfallen