Releases: In Mourning - Echoes (4 demos)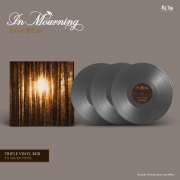 Artist:
In Mourning
Title:
Echoes (4 demos)
Catalog number:
ARLP188_V2
Format:
3 x 12"LP BOX (silver)
Genre:
Melodic Death / Doom Metal
Origin:
Sweden
Release date:
2020
Availability:
Order here
Limited to 300 hand-numbered copies heavy tripple silver vinyl in a de-luxe thick cardboard box. Comes with A2. High volume cut vinyl!
Four first demos of IN MOURNING for the first time released together as 3LP box-set. No CD, no digital release only high-volume cut vinyl. Cover artwork by Kristian Wahlin aka Necrolord. Layout by RaDesign.
TRACKLIST:
SIDE A
Demo I – "In Mourning"
1. Eyes Of The Night
2. Awake Those Wrapped In Dusk
SIDE B
Demo I – "In Mourning"
3. Sins Within An Angel
4. Through The Depth Of Misery
SIDE C
Demo II – "Senseless"
1. Senseless
2. In Tears She Went Away
3. Interpret The Signs
SIDE D
Demo II – "Senseless"
4. Underneath The Dreams
5. Life Emulation
6. Sad Serenity
SIDE E
Demo III – "Need"
1. Stain Of Perverse
2. Dark From Different Lights
3. Need
SIDE F
Demo IV – "Confessions Of The Black Parasite"
1. Confessions
2. By Others Considered
3. The Appeal
4. Porcelain Kiss
5. A Parlour For The Crestfallen