Releases: October Tide - The Cancer Pledge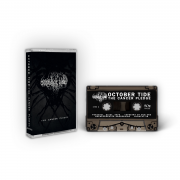 Artist:
October Tide
Title:
The Cancer Pledge
Catalog number:
ARmc023
Format:
Tape
Genre:
Death/Doom Metal
Origin:
Sweden
Release date:
2023
Availability:
Order here
Limited to 150 copies tape.
Recent output has seen OCTOBER TIDE tone down on the doom particle, and throw the listener in a colder embrace of a melodic death metal rainstorm. This trend remains consistent on "The Cancer Pledge", and overlaps with the direction spearheaded by guitarist Fredrik Norrman (ex-Katatonia, ex-Trees Of Eternity, Thenighttimeproject), keen on rejuvenating OCTOBER TIDE with a touch of the past. "It's a direct continuation of the previous album," states Norrman. "Less doom and more death metal, yet melodic and with more layers. I've searched for inspiration in records I listened to in the 80's and 90's when I grew up. But it still sounds like October Tide."

The sound of OCTOBER TIDE, aside from being doom intertwined melodeath, is fronted by emotionally compelling guitarwork, known to subside into melancholic and introspective tones. Even though the band has shapeshifted over the years - starting off as a duo of Katatonia fame musicians, Fredrik Norrman and Jonas Renske, back in 1994 - it has retained and evolved its trademark formula. The present-day line-up, intact since 2016, features said guitarist & founder Fredrik Norrman, second guitarist & Fredrik's brother Mattias Norrman (ex-Katatonia), vocalist Alexander Högbom (ex-Demonical), bassist Johan Jönsegård (Letters From The Colony) and drummer Jonas Sköld (Letters From The Colony / Thenighttimeproject).

"The Cancer Pledge" was recorded and produced in 2023 by OCTOBER TIDE and Karl Daniel Lidén (Bloodbath, Katatonia). The latter mixed and master the album, whose cover artwork was designed by Albin Högbom.
Tracklisting:
1. Peaceful, Quiet, Safe
2. Tapestry of our End
3. Unprecedented Aggression
4. Blodfattig
5. The Cancer Pledge
6. I know why I´m cold
7. Season of Arson
8. Breathe the Water