Releases: Hour of Penance - Misotheism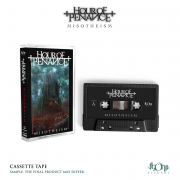 Artist:
Hour of Penance
Title:
Misotheism
Catalog number:
ARmc018
Format:
Tape
Genre:
Brutal Death Metal
Origin:
Italy
Release date:
2023
Pre-order. This item will be available on the 27th of January 2023.
Limited to 100 copies tape.
"Misotheism" is a pitch-black and delightfully brutal death metal soundtrack to a collapsing universe. The album was worked on in three different locations. Drums were recorded at Bloom Recording Studio (Italy), where the band "took advantage of the huge recording rooms and endless choice of microphones". Guitars, bass and vocals - at Kick Recording Studio (Italy) with Marco Mastrobuono, who also worked on "Regicide" (2014) and "Cast the First Stone" (2017). Lastly, HOUR OF PENANCE drove to Poland to mix and master the album at Hertz Studios (Behemoth, Vader, Decapitated). As the band reports: "Working with the Wiesławscy brothers was like putting the icing on the cake and thanks to their mastery we managed to achieve the perfect sound without making any compromises". The cover was handled by Hungarian artist Gyula Havancsàk (Accept, Annihilator, Destruction, Ensiferum).
Tracklist:
1. Mass Crucifixion Of Kings    
2. Blight And Conquer    
3. Fallen From Ivory Towers    
4. The Second Babel    
5. Lamb Of The Seven Sins    
6. Flames Of Merciless Gods  
7. Sovereign Nation   
8. Dura Lex Sed Lex    
9. Iudex    
10. Occult Den Of Snakes