Releases: Ragnarok - Chaos and insanity between 1994-2004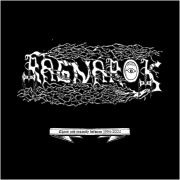 Artist:
Ragnarok
Title:
Chaos and insanity between 1994-2004
Catalog number:
ARlp136_b
Format:
12"LP (colored)
Genre:
Black Metal
Origin:
Norwegia
Release date:
2016
Availability:
Order here
Limited to 133 hand-numbered red vinyl. Comes with two-sided insert including rare band footage, old line-up poster and embroidered patch with band's old logo.

"Chaos and insanity between 1994-2004", is an exclusive release featuring a rare collection of the band's early demos and EPs which were hard to get before but received a proper treatment now. The release comes with rare band's early years footage.
Tracklist :
I.Pagan Land demo 1994*
1. Intro
2. Pagan Land
3. From The Darkest Deep
4. Et Vinterland I Nord
5. Hammerens Slag
6. Ragnarok
II.Various Unreleased tracks:
7. Et Vinterland I Nord**
8 .Under The Wings of Satan (demo)***
9. Fainted Eyes****
10. Live 2004*****
*Recorded in Haga audio in October 1994;
**Recorded in Sarpsborg , September 1994 and taken from the compilation cd called Ørevox;
***Pre-production for the album In Nomine Satanas, recorded in Attic studio in Sarpsborg in 2001;
****Celtic Frost cover taken from the tribute album Order of The Tyrants 2003, Black Lotus Records;
*****Live is from the Blackdoor Miracle Tour in 2004 with Behemoth, Krisiun and Incantation somewhere in Europe! Included only in the CD version!