Releases: Origin - Echoes of Decimation (OriginsOfOrigin)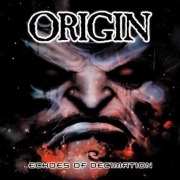 Artist:
Origin
Title:
Echoes of Decimation (OriginsOfOrigin)
Catalog number:
ARlp179
Format:
12" black LP
Genre:
Death Metal
Origin:
U.S.A.
Release date:
2019
Availability:
Order here
Limited to 375 hand-numbered copies black vinyl including insert with lyrics. The first regular vinyl edition of the 3rd album ever! It's been released on a limited picture disc before only!
"Excited to present and complete the "Origins of Origin" series with our first four albums on vinyl with Agonia Records!" ORIGIN founding member/guitarist/vocalist Paul Ryan says. "This is the first time the 'Origin' and 'Informis Infinitas Inhumanitas' albums have ever been pressed on vinyl. 'Echoes of Decimation' and 'Antithesis' are also being pressed for those who missed out on the fun the first time through! Thanks to all the friends/fans of ORIGIN for the support all these years!".
On "Echoes of Decimation", the band says: "We unfortunately had more lineup changes but added a different sound on guitars when Clinton Appelhanz rejoined (formerly on bass 1997-98) and we started incorporating riffs with arpeggios into our song structures with a more straightforward drum attack. With James King on drums. Some of the most vicious sounds of death metal at the time!".
Tracklist:
1. Reciprocal
2. Endless Cure
3. The Burner
4. Designed to Expire
5. Cloning the Stillborn
6. Staring from the Abyss
7. Amoeba
8. Debased Humanity
9. Echoes of Decimation