Releases: Visceral Disgorge - Ingesting Putridity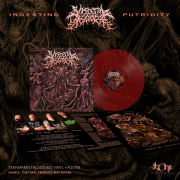 Artist:
Visceral Disgorge
Title:
Ingesting Putridity
Catalog number:
ARlp186_V2
Format:
12"LP (red)
Genre:
Death Metal
Origin:
U.S.A.
Release date:
2020
Availability:
Order here
For the first time available on a transparent red vinyl. Limited edition of 172 hand-numbered copies. The release includes insert with lyrics, exclusive full color A2 poster and a digital download code.
Re-mastered re-release of Visceral Disgorge lauded debut album from 2011.
Emerging from Baltimore, Maryland, Visceral Disgorge began playing their unique style of brutal death metal; captivating the enthusiasts of brutality everywhere. Shortly following the release of "Ingesting Putridity", the band started gaining momentum, and quickly developed a loyal national and international following. The album received critical acclaim from several sources, including Decibel Magazine, and is now considered by many as a death metal classic. The demand for the band facilitated metal festival appearances throughout the United States and abroad, and allowed the group to embark on several major tours, sharing the stage and holding their own among some of the industries top heavyweights.
Tracklist:
1. Force Fed Shredded Genitalia
2. Sedated and Amputated
3. Strangled and Sodomized
4. Ball Gagged and Gutted
5. Spastic Anal Lacerations
6. Colostomy Bag Asphyxiation
7. Necrocoprophagia
8. Maggot Infested Fuck Hole
9. Skull Fucking Neonatal Necrosis