Releases: Necrovation - Necrovation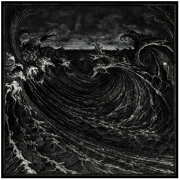 Artist:
Necrovation
Title:
Necrovation
Catalog number:
ARlp093
Format:
12"gatefold LP (black vinyl)
Genre:
Doom Metal
Origin:
Sweden
Release date:
2012
2nd album from Necrovation is finally here!
12" gatefold LP (heavy black vinyl) with special sized booklet.
A swift improvement over the band's previous raw death metal style, with more classical and heavy metal influences but still with the modern classic death metal elements that has been the band's trademark since the beginning;

For the ones who once liked Metallica, early Entombed and the idea of Morbid Angel, the rawness of Repugnant and obscurity of let's say Kaamos, yet this record has a sound that is not bound to any region or country, or influence.