Releases: Enthroned - Sovereigns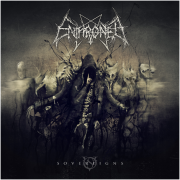 Artist:
Enthroned
Title:
Sovereigns
Catalog number:
ARlp115_b
Format:
12" gatefold LP [ splatter ]
Genre:
Black Metal
Origin:
Belgium
Release date:
2014
The return of the Belgian black-hearted emissaries is imminent. So is their aim to tame the unbridled black-art of metal. Critical acclaim of the former landmark "Obsidium" has only proven, that even the highest regard is not enough to bind the hands of an sovereign individual. With arms long enough to embrace the unknown and grasp the throat of excellence, Enthroned stands strong as never before. "Obsidium" sows the seed of perfection. The exquisite craftsmanship of "Sovereigns" sows the seed of transcendence!
Limited to 100 handnumbered copies bone-white vinyl with a fat, green splatter.
Track list:
1. Anteloquium;
2. Sine Qua Non;
3. Of Feathers and Flames;
4. Lamp of Invisible Lights;
5. Of Shrines and Sovereigns;
6. The Edge of Agony
7. Divine Coagulation;
8. Baal al-Maut;
9. Nerxiarxin Mahathallah