Releases: Pest - The Crowning Horror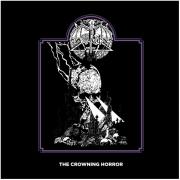 Artist:
Pest
Title:
The Crowning Horror
Catalog number:
ARlp106_b
Format:
12"LP [purple vinyl]
Genre:
Black Metal
Origin:
Sweden
Release date:
2013
Availability:
Order here
Limited to 100 copies purple vinyl.

Pest returns with new merciless album of old school black metal. Pest commented: "After years of silence a new wave of black death will finally strike the world. The plague is upon us. Bring the darkness!"
Recommended for fans of Bathory, Hellhammer, Celtic Frost, Nifelheim or older Deströyer 666 and similar.
 
Tracklist:
1. The Funeral Hours
2. A Face Obscured By Death
3. Volcanic Eyes
4. Devil's Mark
5. Holocaust
6. The Abomination of the God
7. Thirteen Chimes
8. Demon
9. The Crowning Horror
10. Eternal Curse