Releases: Urgehal - Through Thick Fog Til Death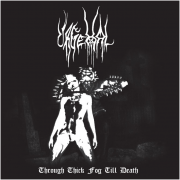 Artist:
Urgehal
Title:
Through Thick Fog Til Death
Catalog number:
ARlp005_RB
Format:
12"LP (splatter)
Genre:
Black Metal
Origin:
Norway
Release date:
2015
Limited to 100 hand-numbered copies white vinyl with black and red splatter. Comes with insert with lyrics and digital download code.

Re-release of the corpse-ripping 4th full lenght album of Urgehal on a limited, noble digipack CD with 12 pages booklet with improved layout and linear notes.
track list:
1.     666
2.     Possessed (Raped by Evil)
3.     Raise the Symbols of Satan
4.     Invasion
5.     Through Thick Fog Till Death
6.     Mirror Satan
7.     Satanic Deathlust
8.     Dead Cold December
9.     Død, død og atter død
10.     Supreme Blasphemy
11.     Mankind Murder