Releases: Demonical - Death Infernal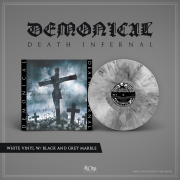 Artist:
Demonical
Title:
Death Infernal
Catalog number:
ARlp205_V1
Format:
12"LP (marbled)
Genre:
Death Metal
Origin:
Sweden
Release date:
2021 re-release
Availability:
Order here
Limited to 300 hand-numbered copies white-gray-black marbled vinyl with insert with lyrics and digital download.
Re-release of the third album with re-wamped artwork and layout by Ra-Design (Nightfall, Varathron, Anaeon, etc.). Pressed from original master tapes!
Tracklist:
01. The Arrival of Armageddon
02. Return in Flesh
03. Black Inferno
04. Ravenous
05. March of Victory
06. Through Hellfire
07. All Will Perish (The Final Liberation)
08. Slain Warriors
09. Darkness Awaits
10. Ffrom Northern Shores*
*LP bonus track