Releases: Azarath - Blasphemers' Maledictions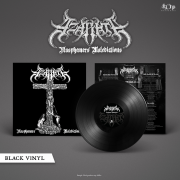 Artist:
Azarath
Title:
Blasphemers' Maledictions
Catalog number:
ARlp190_V1
Format:
12"LP (black)
Genre:
Black/Death Metal
Origin:
Poland
Release date:
2021
Availability:
Order here
Limited to 300 hand-numbered copies black vinyl + digital download code.
Re-release of the long-time-out-of-print beast of an album! Comes with rewamped layout and new cover artwork as well as a bonus track.
TRACK LIST:
1. Arising the Black Flame
2. Supreme Reign of Tiamat
3. Crushing Hammer of the Antichrist
4. Firebreath of Blasphemy and Scorn
5. Behold the Satan's Sword
6. Under the Will of the Lord
7. The Abjection
8. Deathstorms Raid the Earth
9. Lucifer's Rising
10. Holy Possession
11. Harvester of Flames
12. Rebel Souls*

*Bonus track. Cover of Damnation.