Releases: Hail Spirit Noir - Eden in Reverse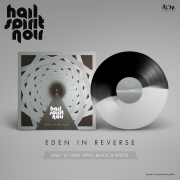 Artist:
Hail Spirit Noir
Title:
Eden in Reverse
Catalog number:
ARlp193RP1
Format:
12"LP (halfnhalf)
Genre:
Progressive Rock/Black Metal
Origin:
Greece
Release date:
2021
Availability:
Order here
Limited 250 handnumbered copies half-and-half vinyl (half black, half white) with insert with lyrics and digital download code.
The band had this to say on the new album: "This is the album we've spent the most time on. We started off doing some experiments without any idea where they could lead to. After the first 3-4 tracks, we realized we were onto something new for the band. We were no longer in the 60s-70s zone but more in the 70s-80s. The songs sounded retro-futuristic and surreal but they were also more prog, psychedelic and challenging than ever. In the lyrics, we re-wrote the story of Eden from a surreal, Richard Dawkins-esque, Darwinian point of view. The result was Eden in Reverse".
HAIL SPIRIT NOIR is an intriguing psychedelic prog metal band, with strong experimental and prog rock influences, recommended for fans of Oranssi Pazuzu, Ulver, Borknagar, or Ghost, yet with an identity of its own. Their third and last album, "Mayhem In Blue", was released to critical acclaim in 2016, and was followed by several festival appearences, including a thundering performance at Roadburn (which simultaneously marked the first-ever appearance of a Greek band at the festival) and other festivals such as Inferno (Norway), Dark Bombastic Evening (Romania) and more.
The group was established late 2010 as a trio and issued their debut album "Pneuma" two years later. Its warm reception strengthened the band's experimental approach and enhanced its quirky take on music, all of which inevitably led to the release of "Oi Magoi" in 2014; a psychedelic prog-black metal opus of trippy melodies and satyric aura. Followed by "Mayhem In Blue" in 2016, the band's signature sound was solidified, and at the same time expanded into more aggressive territories, without abandoning the group's trademark psychedelic-infused melodies. Since 2018, the trio has been joined full-time by its live members, changing the band into a sextet. The new album "Eden In Reverse" was completed late 2019. It is regarded by HAIL SPIRIT NOIR as the next step in their ongoing evolution, this time with an 80s twist. 
"Eden In Reverse" was recorded at Lunatech Studios. The album was produced and mixed by Dimitris Douvras (Rotting Christ) and mastered by Alan Douches (Nile, Aborted, Whitechapel). Cover artwork was prepared by StuZor. The track "Crossroads" features guest vocals from Lars Nedland of Borknagar. 

Tracklist:
1. Darwinian Beasts 
2. Incense Swirls 
3. Alien Lip Reading 
4. Crossroads  
5. The Devil's Blind Spot 
6. The First Ape on New Earth 
7. Automata 1980