Releases: Urgehal - Goatcraft Torment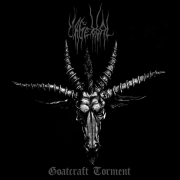 Artist:
Urgehal
Title:
Goatcraft Torment
Catalog number:
ARlp031_RB
Format:
12"LP (clear vinyl)
Genre:
Black Metal
Origin:
Norway
Release date:
2016 re-release
Limited to 100 handnumbered copies clear vinyl with insert + digital download code.

Re-release of the classic album of URGEHAL. First time on black vinyl since 2006.
Tracklist:
01. Goatcraft Torment
02. Risus Sardonius
03. Antireligiøs
04. Dødsmarsj til Helvete
05. Satanic Black Metal in Hell
06. Nefastus Nex Necis
07. Gathered Under the Horns
08. Selvmordssalme
09. Sentiment of Chaos
10. Et steg nærmere Lucifer