Releases: Forgotten Tomb - Springtime Depression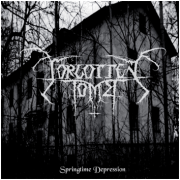 Artist:
Forgotten Tomb
Title:
Springtime Depression
Catalog number:
ARlp088b2
Format:
12"LP (blue)
Genre:
Origin:
Release date:
2012
Long awaited and long time out-of-press re-master of the band's classic album. Limited edition with unreleased pictures and new liner notes by Herr Morbid himself. Includes bonus track.
A must-have for all the fans of the band as well as for everyone into negative and obscure Black Metal.

Limited to 100 copies heavy (180g) sea blue vinyl.