Releases: Infernal War - Terrorfront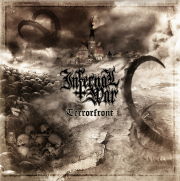 Artist:
Infernal War
Title:
Terrorfront
Catalog number:
ARlp028_RB
Format:
12" gatefold LP (splatter)
Genre:
Black/Death Metal
Origin:
Poland
Release date:
2015 re-release
Limited to 100 hand-numbered copies transparent brown vinyl with fat black splatter + digital download code.

Long time sold-out debut album of INFERNAL WAR available again on a gatefold vinyl. Includes exclusive bonus track. Comes with a new cover artwork and lay-out.
Tracklist:
1. Introduction to Assassination
2. Crushing Impure Idolatry
3. Dead Head's Empire
4. Be a Slave or Be a Lord
5. Crush the Tribe of Jesus Christ
6. Terrorfront
7. Salvation
8. The Grand Intolerance Manifestation
9. Dechristianized by Parabellum
10. Triumphant Outroduction
11. Christ Passion